The corridors are alive with the sound of music at Laurus Ryecroft, with the debut of the school Gospel choir and ever-increasing numbers of students choosing to learn a musical instrument, thanks to the variety we offer.
We're incredibly excited to welcome award-winning vocalist Carla Jane to school, to run the brand-new Gospel choir.
Carla Jane has been performing on stage, television, radio and in the studio for more than 30 years and is also the choir director for schools across Manchester and Liverpool.
We are incredibly lucky to have the benefit of her experience and talent and are looking forward to the choir sessions getting underway.
Rehearsals will take place every Monday 3.15 pm- 4.15pm in the auditorium, and just like the school choir which is held every Wednesday lunchtime, everyone is welcome to attend.
Any students wanting to join can sign up by completing the form which has been emailed home.
In addition, our Year 7s enjoyed listening to performances from Tameside Music Service musicians, who came into school this week to demonstrate the instrumental tuition on offer at Laurus Ryecroft. They introduced students to brass, string, woodwind and percussion instruments as well as piano, guitar and vocal coaching.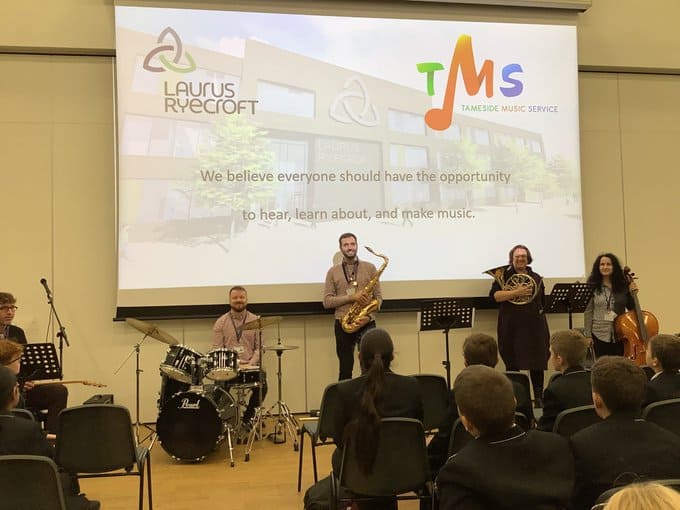 The Instrumental Starter Scheme offers Year 7s weekly tuition and instrument hire for a one-off payment of £25 for the year. Anyone who is interested can once again register by completing the form that has been emailed to parents and carers.
It is important to us at Laurus Ryecroft that music provision is fully inclusive and we're looking forward to as many of our students as possible getting involved and putting on some fantastic performances in the not-too-distant future.